Stretch marks, scars, uneven skin tone, and imperfections, we all have them! Odds are, if you have experienced them, you must have heard of Bio-Oil.
Bio Oil is a brand name of oil-based skin care product that has increased in appeal since the very early 2000s. While marketed largely to reduce the appearance of stretch marks and also scars, Bio-Oil fans shared that it works marvels in a wide range of methods, from strengthening your hair to eliminating your makeup and also helps to ease sun-burnt. The majority of these cases are clinically unproven, but given that Bio Oil is fairly budget-friendly and also normally secure for lots of people to use on a daily basis, it might be worth a try!
How To Apply Bio-Oil? 
Today, we want to share with you how to use Bio-Oil
According to Bio-Oil Malaysia,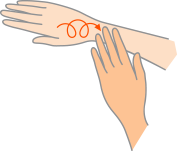 Bio‑Oil should be massaged in a circular motion on the face or body until fully absorbed.

It is recommended that Bio‑Oil is applied twice daily, for a minimum of three months.

It is safe to use Bio‑Oil on a scar as soon as the skin on the surface has fully healed.

Bio‑Oil should not be applied to an open wound or broken skin.
Next week, we will be sharing about 5 surprising ways to use Bio-Oil.